Hello my health-conscious friend,
Thank you for your purchase of our brand new anti-aging nutrition manual,
The Top 101 Foods that FIGHT Aging
!
Catherine and I are really excited to share all these amazing foods, herbs, spices, nutrients, and other tips and tricks with you that can help you to SLOW the aging process and get a leaner, healthier body for life!  This is truly our passion to share this valuable health-saving information with you.
If you also purchased the follow-up recipe book, the
82 Anti-Aging Superfood Recipes
ebook in addition, please be aware that the download for that manual is located on a separate page from this and the link for that was included on your final order confirmation page as well as your email receipts.
Your files are now available for download below. DO NOT LEAVE THIS PAGE UNTIL YOU HAVE DOWNLOADED THE FILES, just in case you can't find your way back.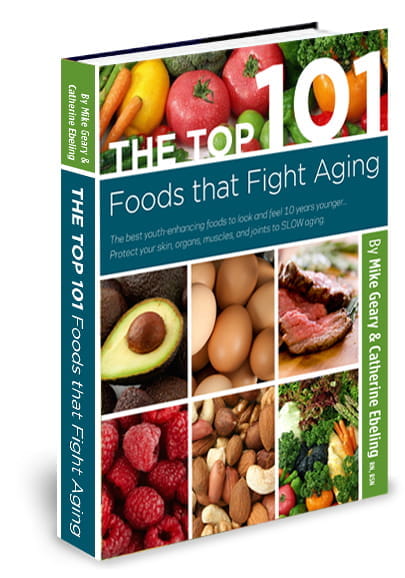 Make sure to save the ebooks to a directory on your computer for future reading.  Do not attempt to come back to this page in the future to redownload as the page URLs are changed on a regular basis... the goal is to save everything to your computer this first time, since you may not be able to come back to this page in the future.
As a reminder, just so you recognize the charge to your card, it will be listed as CLKBANK*COM (it will NOT be listed as Truthaboutabs.com or the title of the manual that you purchased)
Remember, you need to have Adobe Reader to view the pdf files, which most computers already have. If by chance you do not already have it installed on your computer, a free download of Adobe Reader is available at
http://www.adobe.com/products/acrobat/readstep2.html
To save the pdf files to your computer, right click on the link and click "save target as" or "save link as" and then save to a directory of your choice on your computer.
Right click here to download your copy of The Top 101 Foods that FIGHT Aging
---
Surprise Bonus #1:  FREE Anti-Aging, Fat-Burning Paleo Recipe Book Shipped Directly to Your Home!
I have something very exciting to share with you today...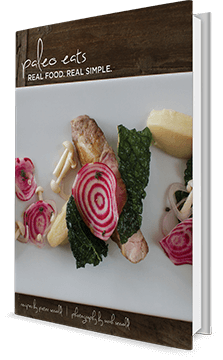 Over the past year, my friends at PaleoHacks have been working on a super secret cookbook project with the world-renowned Peter Servold -- a Le Cordon Bleu trained Chef and owner of Pete's Paleo...
And today, this new incredible Paleo Cookbook is finally available to be shipped right to your door -- for FREE!
That's right -- as a special launch promotion, they're offering their 
brand new Paleo fat loss cookbook to you for free
(Chef Pete lost 60 lbs using these recipes!)
 -- All you have to do is just cover a small shipping cost (international shipping is a bit more).
The cookbook is called Paleo Eats, and it's filled with over 80 chef-created, insanely tasty Paleo recipes -- which means they are free from gluten, soy, dairy, and refined sugar.  But most importantly, 
they are EASY and FAST to make
 when you see how Pete simplifies gourmet cooking.
Pete has well 
over 10,000 hours of experience cooking these gourmet meals
 -- refining his recipes over the past 10+ years for the absolute perfect taste.  
Inside, you'll find recipes like:
Pan-Roasted Pork Chops w/ Rutabaga Puree & Roasted Beets
Mongolian Red Pepper Beef w/ Roasted Spaghetti Squash & Chard
Pear & Proscuitto Salad
Braised Pulled Pork w/ Sauteed Kale & Roasted Baby Carrots
BACON BARS.
And a LOT more!  Over 80 amazingly delicious recipes that will help you lose body fat, improve your digestion, boost your energy & immunity, get clearer skin, control blood sugar and help to slow the aging process. 
You'll even see on this page how Chef Pete himself lost 60 lbs using these recipes!
And let me tell you from personal experience -- 
Pete's meals are out of this world amazing
 -- you'll get to experience some of the tastiest versions of Paleo favorites -- and some new flavors and recipes that I can guarantee you've never tried.
>> Get your FREE copy of Paleo Eats Here. (Grab this today, because they only ordered a small batch of these cookbooks for this freebie promotion, and they will sell out FAST!)
---
---
Surprise Bonus #2: FREE Book Reveals How to REVERSE Arthritis naturally (plus foods to avoid that worsen Arthritis)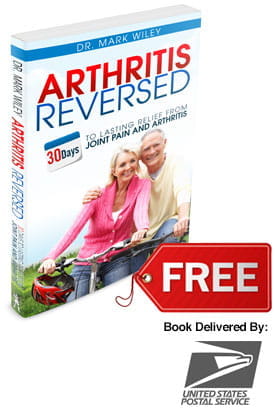 I've worked out an exclusive deal with the publisher to provide you with a copy as part of your purchase today.
The best part: A pain free life can be yours much sooner than you may think. You'll discover the secrets to that ended 30 years of agony for one doctor after he tried all of the conventional pain treatments that didn't work. But as soon as he started using the treatments and solutions in this book, the pain vanished. And yes, it has been a permanent solution for him. You'll see how it could do the same for you.
There is a catch. There are limited copies. If you're seeing this now, though, we still have one reserved for you as bonus for your purchase. Please hurry and claim your copy. The book is yours FREE, after a small shipping fee that allows us to rush the book right to your door.  Start enjoying the benefits of these healing breakthroughs that are proven to help quickly end many types of pain.
Here are some of the profound benefits you'll find in your FREE hard copy of Arthritis Reversed, written by Dr. Mark Wiley - PhD, OMD, MSM:
3 hidden imbalances that cause arthritis (Chapter 8)
The REAL reason your doctor can't help you (Chapter 9)
10 big arthritis mistakes that are keeping you in pain (Chapter 4)
Which foods make you HURT... and which ones help (Chapter 10)
The low-impact martial art developed to help arthritis sufferers (Chapter 13)
The TRUTH on which supplements actually help vs those that are a waste (Chapter 11)
Ancient and modern therapies proven effective for arthritis (Chapters 14 & 15)
One lifestyle change that can wipe out 80% of your pain (Chapter 18)
Help for BOTH osteoarthritis and rheumatoid arthritis!
=> Click Here to Get your Free copy of Arthritis Reversed while available (expires soon)
---
Surprise Bonus #3: FREE Anti-Aging Exercise DVD shipped directly to your home!
 
Grab this Free Follow-Along Anti-Aging Exercise DVD from Dr. Kareem Samhouri.
In as little as 5 minutes per day, this DVD series, designed by a world-renowned physical therapist, is designed to slow the physical aging process by balancing your body to help you 'look' and 'feel' younger - plus, it gives you the little-known key to effective, lasting weight loss and overall better health. 
This FREE DVD lays out exactly what you should do on a regular basis to REVERSE the aging process in your body, including:
Decreasing joint pain
Fighting inflammation
BURNING stubborn fat, without pounding your joints or adding wrinkles
Increasing muscle strength & tone...
And all it takes is as little as 5-minutes per day!
But because this is a FREE DVD, supplies are very limited, so please act today!
> Click here to have Dr. Kareem send you a FREE copy of one of his 5-Minute Anti-Aging DVDs (hurry before the offer expires).
---
Enjoy all of the information and good luck! If you have any problems downloading the files or have any questions, feel free to contact our customer service team at:
Sincerely,
Mike Geary
Certified Nutrition Specialist
Best-Selling Author
Important Health Resources:
Do you struggle with E.D., Diabetes, hearing loss, or weight loss?  Please see below for a few very important messages...