Try the Truth About Abs
21 Days for just $2.95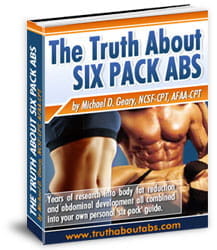 Here's how it works...
You're going to instantly download the complete Truth About Abs package today with this simple 21-day trial offer.
You pay only $2.95 for a fat loss system that's going to help you finally see permanent results.
Start to see the incredible principles and techniques you learn in the program take effect on your own body…shedding off unwanted fat, feeling your clothes get bigger….all while still enjoying delicious fat burning foods all day, every day, without feeling hungry or deprived!
We'll apply the $2.95 you've already paid toward the discounted Truth About Abs package ($39.95), so the remaining $37 investment in your body and health will be billed to you at 21 days from today.
You will NEVER be billed again after this remaining $37. Of course, if you decide it's not right for you for any reason, it's as simple as emailing us at any time within the 21-day trial period to cancel. No questions asked. Your trial will be cancelled and your processing fee will be returned to you. No loss or risk to you, whatsoever!
PLUS, you've still got your 60-day IRON CLAD 100% Money Back Guarantee on the full $39.95 if you decide at any time that the Truth About Abs is not the right program for you... Although, I'm pretty confident Truth About Abs will work for you, just as it has for thousands of other people worldwide.
Here's what you'll download instantly...no waiting for items to be shipped in the mail...you will have this program on your computer right away!